Location
The hyper-connected crossroads
of five London neighbourhoods
and their Crossrail station.
Connectivity
Broadly equidistant from Tottenham Court Road
and Holborn stations for the Central,
Northern and Piccadilly lines and Crossrail,
The Post Building has unparalleled connectivity
to transport, culture and people to
access London's great talent.
"This pivotal position in London sits surrounded
by a deep well of history on all sides, yet is at
the very epicentre of the buzz of contemporary life.
You can feel the rhythm, you can taste the town."
Robert Elms
BBC Broadcaster and
former writer at The Face magazine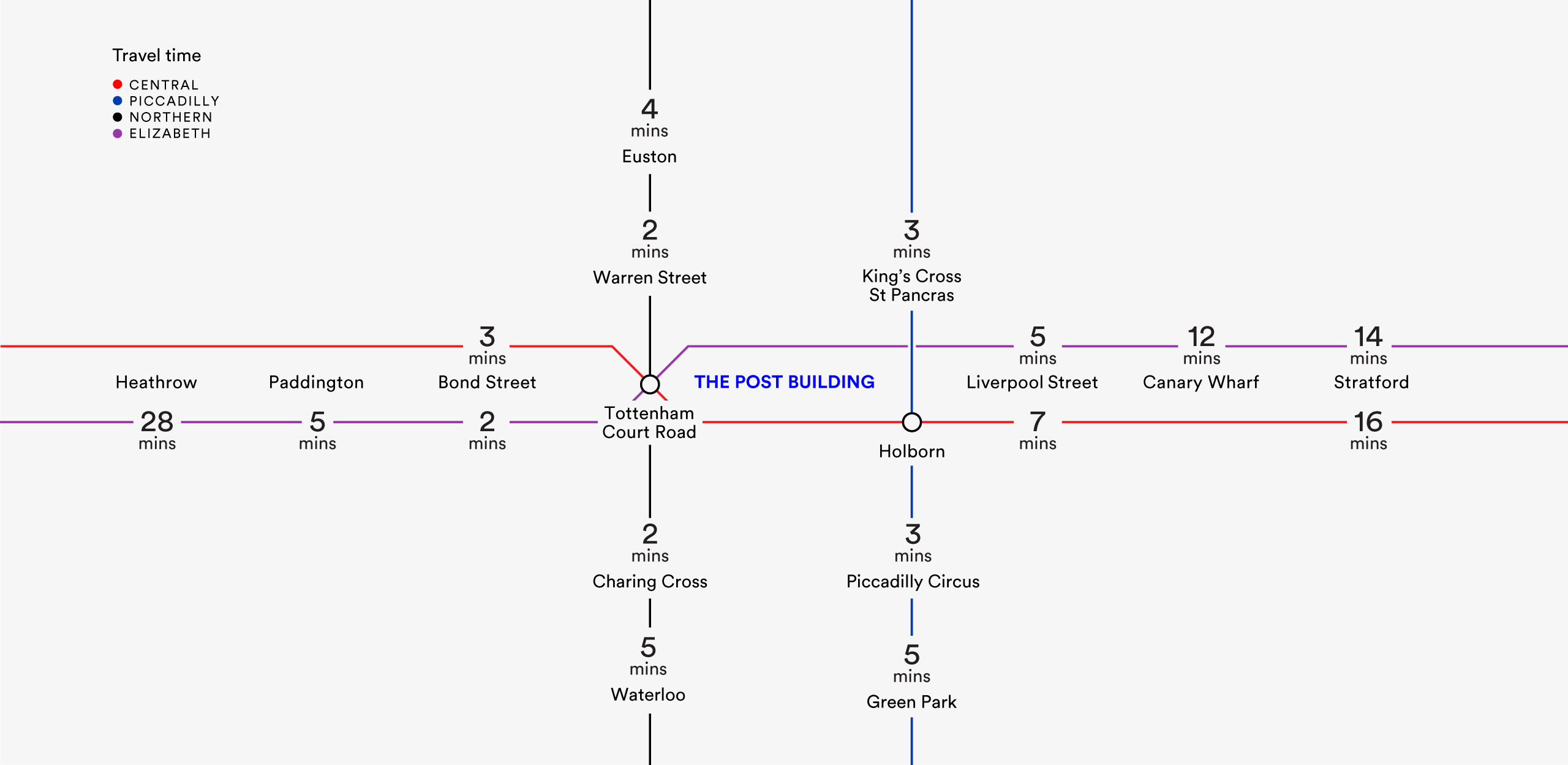 Crossrail
Due to open in 2022,
Crossrail serves Tottenham Court Road station,
bringing an additional 1.5 million people within
45 minutes' travel of central London.
The transformed station has three new entrances
and is five times the size of the original station.
PEOPLE WITHIN
45 MIN TRAVEL DISTANCE
OF CENTRAL LONDON
Source: Arup, Elizabeth Line Readiness, 2018
Thriving district
The Post Building marks the connecting
point of five of London's most characterful
and vibrant neighbourhoods.
Fitzrovia
Excellently connected, this genteel neighbourhood lies between Euston station and the new Crossrail hub at Tottenham Court Road. It is also home to landmarks the BT Tower and BBC's Broadcasting House.
Holborn
The natural meeting point of creative and professional London, Holborn is home to corporate headquarters and the amenities to match, as well as Lincoln's Inn Fields and its famous chambers of law.
Bloomsbury
Part of the Knowledge Quarter, Bloomsbury has its fair share of academic, cultural & research institutions from University College London to The British Museum, as well as brilliant book shops and an established café culture.
Covent Garden
This cultural heartland mixes first-rate shopping around Seven Dials with big name theatres, creative industry hangouts like The Hospital Club and, of course, the Royal Opera House.
Soho
The original creative hub, its maze of streets is home to media companies, television production houses and creative agencies, not forgetting a reputation for exceptional food and cocktails.
Public realm
To coincide with the arrival of Crossrail in 2022,
the area is seeing vast improvements to its
streets and squares, catering to this
popular public destination.